A Guest Blog from Nabila Pathan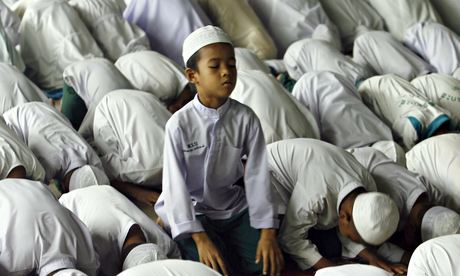 A boy prays during Ramadan in Thailand. Channel 4 said it encountered Islamophobia with its UK 4Ramadan season. Photograph: Abdullah Wangni/EPA
The legacy of the of the first British TV channel to broadcast the Muslim call to prayer last Ramadan has become "top in viewer complaints" of 2013.   The figures grabbed the spotlight irrespective of the fact that Channel 4 responded that it was 'Islamophobia' that whipped up a frenzy of complaints.
With Channel 4′s deployment of the 'Islamophobia' label,  you get a fair sense of the mindset that allows itself to get offended.  Opinion writers like Nesrine Malik have gone a little way to place it into context of the fear of a Muslim takeover even though she herself was not convinced initially by channel 4′s decision to showcase the call to prayer in Ramadan.
The  three-minute call to prayer (Adhan) was beamed live each morning on Channel 4 television and marked the start of the day's fast for Muslims.  As it was a pre-dawn broadcast, one wonders how many of the viewers who complained actually woke up early to view the actual call to prayer and thus make an informed objection?
The showcase of the Adhan was a unique focus on an aspect of Muslim ritual which is not part of a mainstream consciousness.  And that's what Channel 4 are about, placing a spotlight on something different.  The specially-shot call to prayer was delivered by Hassen Rasool, who is considered one of the best muezzins in the UK. It was filmed to a backdrop of London, Birmingham and Bradford.  If anything it was a creative way of presenting the call for prayer for many Muslims and introducing it to a wider audience.
We can look cynically at Channel 4 for pandering to a community for ratings or we can retreat from supporting future output based on fear of inviting criticism underpinned with intolerance.  Neither are promising nor inspiring for future innovative output.
The media and its cultural productions are a way of reinforcing the emergence and belonging of communities within mainstream societies.   At a time when  Muslims are becoming a more visible and vocal part of British society, sometimes as a reaction to negative narratives, there is a real need for culturally diverse output to represent the community.  Otherwise we are left with the usual spate of tabloid headlines of creeping shariah.  There are some sincere attempts but the only ones that come to mind are  Citizen Khan that fail in comedic stakes and the Eastenders Muslim family that look like they belong less in Walford and more out in space.
With Ramadan round the corner, it remains to be seen whether these complaints speak louder than ratings for future editorial decisions?  After all, it was the number of complaints that made the headlines, not the fact that it was Islamophobia "from communities that were either very polarised or very undiverse".
Nabila Pathan
@NabilaMPathan
The Full Picture Club Director. Editor @wordplayblog. Writer for Al Arabiya English and Huffington Post.